Whether you're new to the area and looking for the best restaurants in Chevy Chase, or a seasoned local eager to try something new, these restaurants are worth your consideration. From fine culinary experiences to lively venues, Chevy Chase has it all.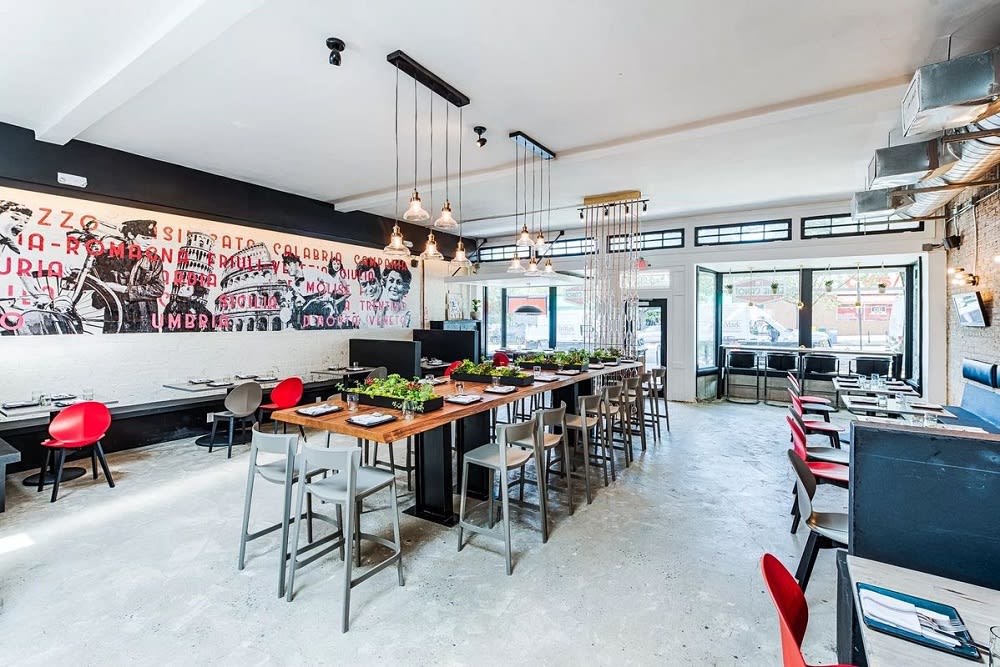 Photo courtesy of I'm Eddie Cano's Website
I'm Eddie Cano
Located in the south end of the neighborhood, I'm Eddie Cano is an Italian restaurant open for dinner seven days a week and for lunch Thursday through Monday. Earning accolades such as a spot on Michelin Guide's "Best Italian Restaurants in Washington, DC", I'm Eddie Cano is widely known for their delicious pasta for lunch and a seamless blend of American and Italian dishes on their seasonal dinner menus. With a sleek dining room, this restaurant has a relaxed yet elegant atmosphere, allowing guests to enjoy their meal in style.
Rosemary Bistro Cafe
Located next door, Rosemary Bistro Cafe is another highly-rated restaurant in Chevy Chase. With a base in French cuisine, this restaurant serves a menu of multicultural food as a reflection of its surrounding community. Featuring both indoor and outdoor seating, Rosemary Bistro Cafe offers a unique dining experience with a menu full of excellent pasta, soups, and salads, as well as paella on Wednesday nights. You'll be taken not only by their delectable flavors but also by their exquisite preparation. At Rosemary Bistro Cafe, palettes and eyes alike are indulged.
¡Muchas Gracias!
Despite opening during the pandemic, ¡Muchas Gracias! has held its own. With the mission of giving back to its community and providing support for Latin American workers, this restaurant was born out of a love for its neighborhood. Serving brunch through dinner, ¡Muchas Gracias! has all of your favorite Mexican foods with everything from tacos and quesadillas to delectable desserts. The restaurant also boasts a full-service bar offering wines, beers, and cocktails.
The Avenue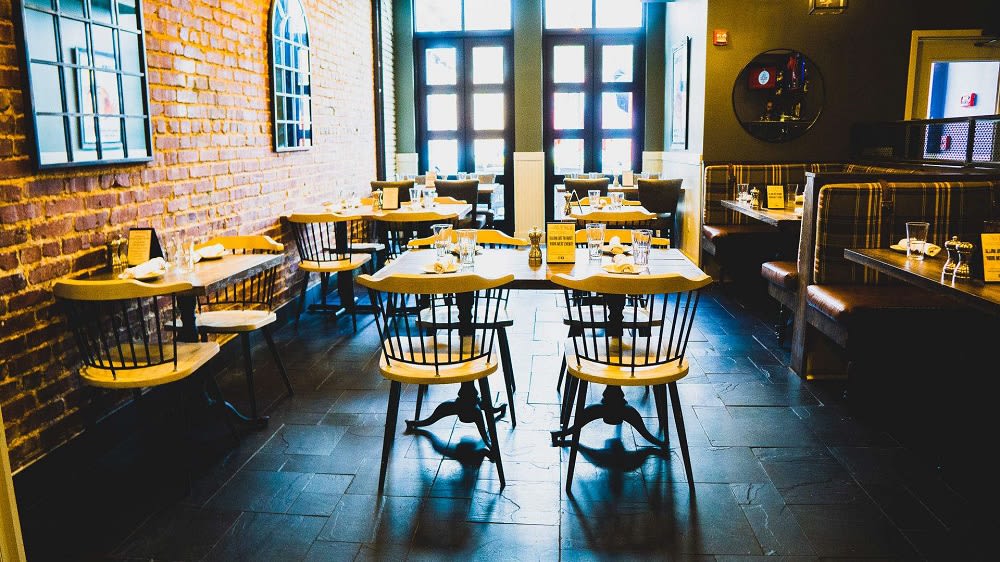 Photo courtesy of The Avenue's website

The Avenue is a local restaurant and bar serving classic American dishes and seafood favorites within a warm and inviting brick-walled interior. This location is family-friendly and prides itself on its staff's attentiveness while cultivating an enjoyable experience that keeps patrons returning again and again. With delicious starters, burgers, sandwiches, and seafood dishes, no matter what your taste in American food is, you'll find something to love at The Avenue.
Little Beast Cafe & Bistro
Located at the intersection of Connecticut Avenue and McKinley Street, Little Beast Cafe & Bistro is an Italian restaurant open for lunch and dinner Monday through Friday and for brunch on the weekends. Serving a menu full of appetizing salads, entrees, and sandwiches, Little Beast Cafe & Bistro has plenty of options to choose from. Whether you want a Detroit-style pizza, a Little Beast brick oven pizza, or a custom-made pizza, this restaurant will have the perfect pie for your tastes. Little Beast Cafe & Bistro also offers an extensive wine list, many enticing cocktails, and a selection of draft and bottled beers. Also available in this location is the Red Velvet Cupcakery which offers various sugary indulgences to satisfy your sweet tooth.
Blue 44 Restaurant and Bar
Blue 44 Restaurant and Bar is a tavern-style restaurant located along Connecticut Avenue. With the goal of promoting a healthier community, Blue 44 uses locally sourced ingredients when possible to create southern-style comfort food with an Italian and French influence. Open for brunch, lunch, and dinner daily, except for Mondays on which it is open for dinner only, Blue 44 Restaurant and Bar has an extensive menu of soups, salads, sandwiches, and pasta to choose from.
Parthenon Restaurant & Chevy Chase Lounge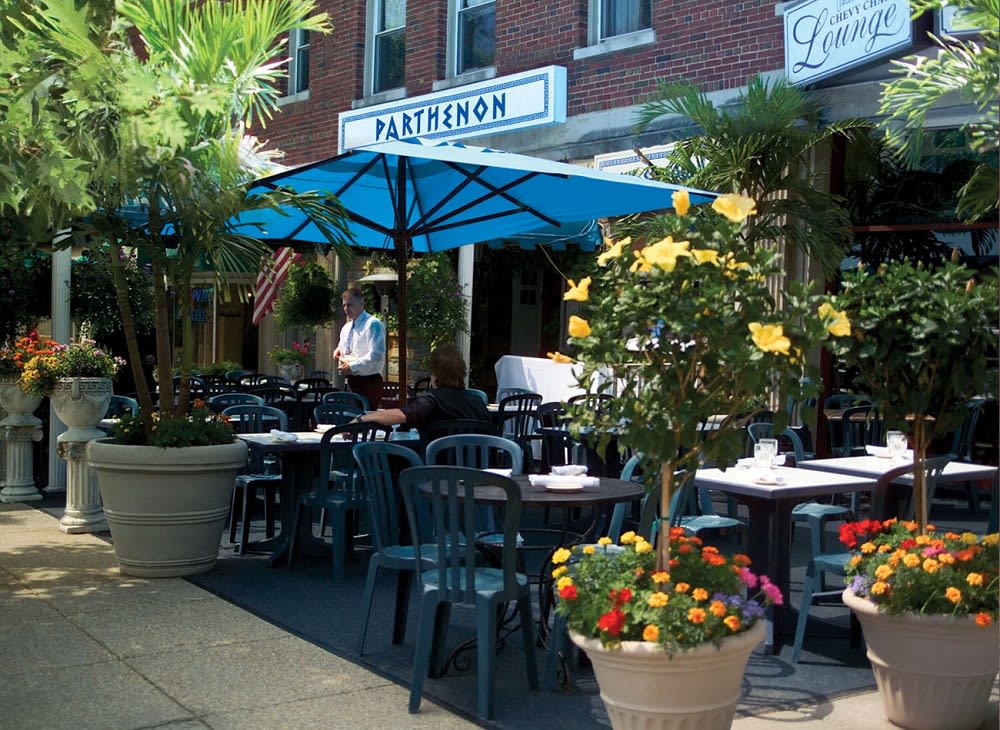 Photo courtesy of Parthenon Restaurant's Website

Named after the famed Parthenon in Greece, Parthenon Restaurant strives to be as great as its namesake. Serving a menu full of Greek staples, this restaurant has a taverna atmosphere that cultivates a memorable dining experience for all who enter. Alongside familiar Greek dishes, Parthenon Restaurant has delicious homemade desserts. Enjoy your meal in the comfortable dining room or on the sidewalk patio, with private dining opportunities available as well. Attached to the restaurant is Chevy Chase Lounge, a full-service bar with cocktails and more.
Mamma Lucia, Pizzeria & Cafe
Mamma Lucia, Pizzeria & Cafe is a local chain known for serving up mouthwatering Italian fare in a relaxed setting. Serving a wide variety of Italian favorites, Mamma Lucia has everything from pasta to pizza, from seafood to subs. Whether you want to enjoy a meal sitting in their intimate interior or order one of their meals to be enjoyed at home or at work, Mamma Lucia will have you covered.


For more information about local restaurants or Chevy Chase luxury homes on the market, feel free to reach out to The Babbington Team. As one of the area's best realtors, our dedicated team will guide you in finding your dream home Chevy Chase no matter what step of the buying process you're at.